I would like to acknowledge the Traditional Owners of this land and recognize their continuing connection to land, water and culture. I pay my respect to their Elders past, present and emerging.
This project 'A Biased Truth' was created within a learning process that considered Indigenous perspectives on Sovereignty, Decolonisation and Country in the context of the subject 87831 VC Design Studio: Visual Communication Design and Emergent Practices in Faculty of Design Architecture and Built Environment (DAB) University of Technology Sydney (UTS) in Spring 2018. The project is part of a student learning experience and is not a professional design outcome. According to the intent of the subject the project should be understood within an educational context. The designs can be shared by the student to demonstrate the ongoing learning experience and are not for public display by exhibition, web-based platform or otherwise without obtaining adequate permissions from the designer.
A Biased Truth - a look into the systematic erasure of aboriginal voice, stories and events from Australian history.
In Australia, there has been, and continues to be, an immense dichotomy between colonial perspective and Indigenous voice, which is both a precursor and resultant of the systematic erasure of Indigenous voice from the Australian discourse, be it education, media, journalism and culture. This project is based on an 'Indigenous Australian Timeline' provided by the University of Technology, Sydney as part of subject 87831 that provided alternative recounts of popular Australian history from Indigenous Australians perspectives.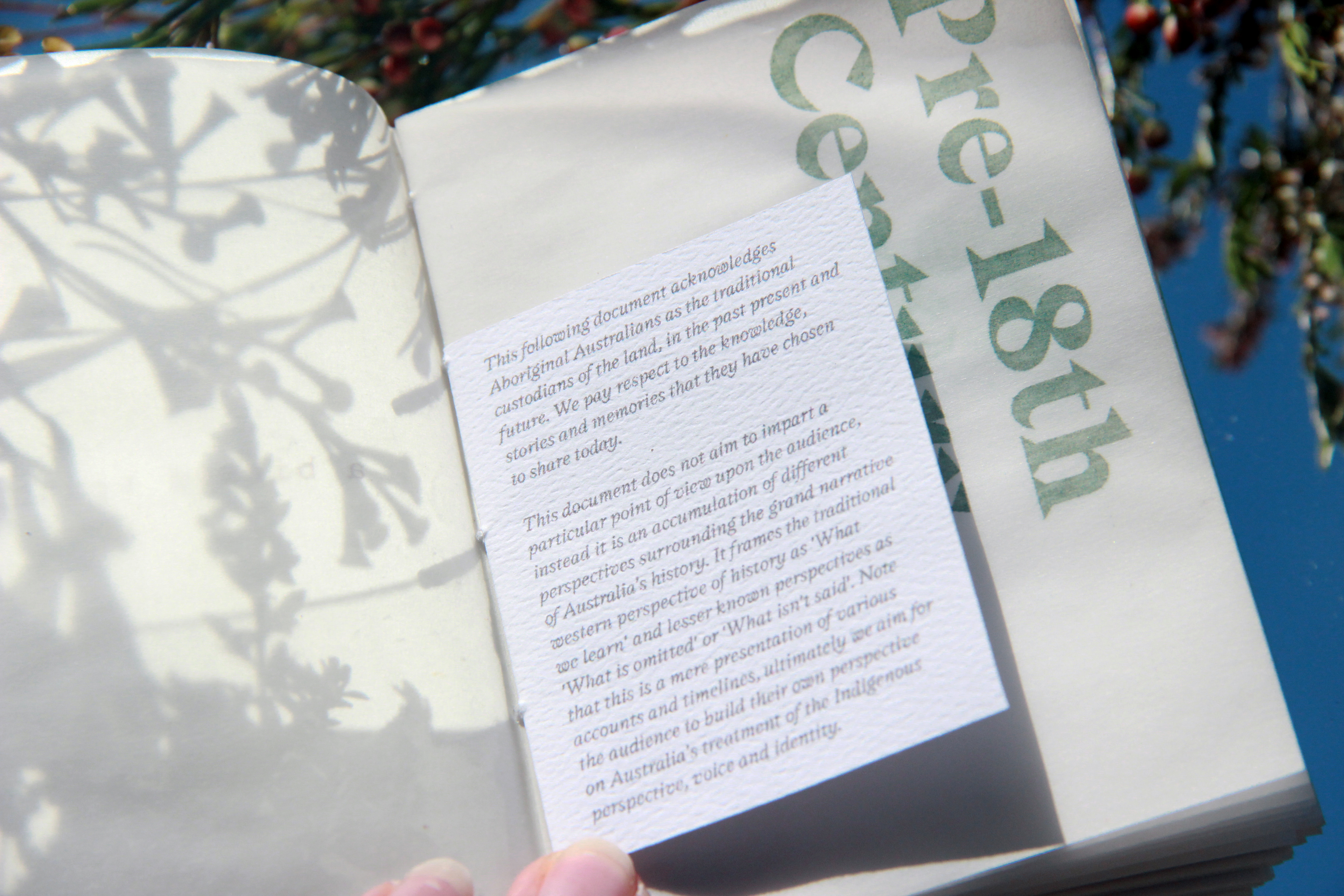 This project highlights this discrepancy in Australian histories and illustrate to the audience the magnitude of systematically erasing Aboriginal voice, stories and events. By using the Reframing methodology, and this project aimed to shift the audience's perception of Australia's timeline in a personal and poetic manner, inciting empathy and educating in order to create small scale, individual change.
Through the use of translucent paper and typographic heirarchy, 38 events are presented in multiple perspectives to highlight the discrepancy between the events described and recorded between different parties. These perspectives include colonial Australian history, Indigenous Australian history and an analysis of the context around both of these perspectives to provide further insight for the audience.